Hello Environmentality listeners,
Jaime, Fola, Ahmed and Smokey spoke to Beth Askham from the Alternative Technology Association (ATA) about the September issue of ReNew magazine. The ATA is member organization which provides information and resources to member about how to improve the sustainability of their homes.
Learn about how to make your own biochar from a modified drum in the latest issue. Biochar is clean charcoal made from burning organic matter through pyrolysis; the organic matter is burnt cleanly so there is no smoke produced. Biochar is great for the soil nutrients and for holding carbon in the soil.
Beth also talks about some of the appliances that can be used to monitor the energy use at home. Monitoring the energy use is a good way to understand where and when you're using the most amount of energy. Some of these appliances tap into the smart meters. For more a guide to smart meters, you can go to the ATA website.
The recent Electric Vehicle Expo brought together electrical vehicles such as bikes, skates and cars. Although several years ago the only way to have an electric car was to make your own, it has now become more affordable. Despite Victoria coal driven electricity, electric cars can still be environmental friendly with solar PV roofs, solar recharge station such as at CERES and high levels of efficiency.
The University of Wollongong has retrofitted a fibro shack and entered in the
Solar Decathlon competition.
Using sustainable technology and green design, the house has been designed to be energy neutral; creating all the energy the house needs. To learn more about the project, visit their website:
http://www.illawarraflame.com.au/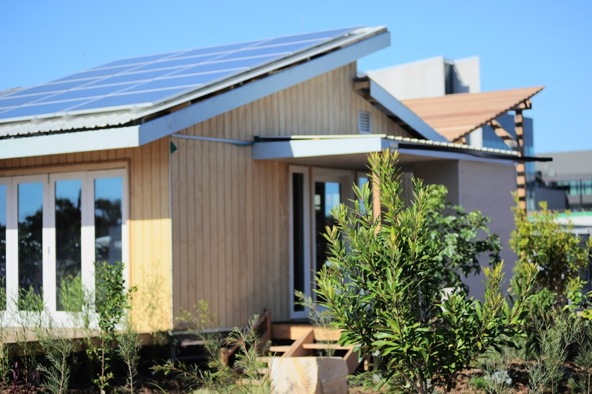 Courtesy of

UOW's Illawarra Flame
To learn more about the petition set up government grants to help start community owned energy projects such as energy and solar go to the website
www.fundcommunityenergy.org
The ATA has also started selling accredited green power through the
Community Climate Chest
. We can now buy green power from community groups and NGOS rather than the retailers.
We then further chatted about Soccer, politics, the East-West Tunnel, and the carbon tax and emissions trading scheme.
Tune into the podcast
to hear more about the ATA and Smokey's views the East-West tunnel and the carbon tax.
Tracks played:
Wolf Mother- White Unicorn
The Pixies- Here Comes Your Man
Tim Buckley- Chase the Blues Away